Dovetail Gallery Inc. Announces Entry in the 2013 Artprize Giant Quacker – What the Duck? Artprize 2013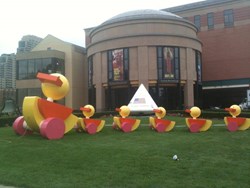 Our venue ,Grand Rapids Public Museum is a fantastic sight for the Giant Quackers and the other installations around us are great. ! -David Seitzinger
Grand Rapids, Michigan (PRWEB) September 19, 2013
The Giant Quacker Project, a Pop Art sculpture designed by Erie's own artists David Seitzinger and Gary Cacchione is now entered in ArtPrize. Over the next 19 days, tens of thousands of people roaming the streets and stores of Grand Rapids will feast their eyes on paintings, debate the merits of sculpture and argue over the deeper meaning of installations. It's highly unlikely anything in ArtPrize 2013 will please everyone. But with 1,524 entries, surely something will tickle your fancy Dovetail Gallery hopes its entry Giant Quacker will turn some heads.
"We hope the public at ARTPRIZE really connects with our art piece. -Gary Cacchione"
Giant Quacker is the brainchild of David Seitzinger and Gary Cacchione This project was a commissioned work for the 2012 governor's awards and is now a campus symbol at Mercyhurst University. Recently the family of art ducks was seen by an estimated 100,000 at the Perry 200 Commemorative Parade in Erie, PA. After the Perry 200 Parade, this duck family will be displayed at the prestigious ARTPRIZE competition in Grand Rapids, Michigan in September; competing to win the first prize purse of $200,000. The POPArt duck family will be on display at the Grand Rapids Public Art Museum venue.
ARTISTS:
Gary Cacchione- I create original, functional,sculptural furniture. Asymmetrical forms,bold materials and modern shapes cleverly mingle with my experience to produce this furniture-art hybrid. I abstract motifs from chance encounters, movies, music and modern architecture to design and produce functional objects. My work is a combination and layering of various materials. My design process began almost exclusively with the use of native American hardwoods and veneers. My palette has grown to incorporate unexpected materials and innovative processes. That method has evolved from age old woodworking and joinery to include new cnc routing and vacuum bending technologies. This combination of old and new has led to a distinct change from one of a kind furniture to multiples. In 2010 I founded OZZO to become the entity responsible to produce and market these striking and conceptual furniture designs.
David Seitzinger, creator of sculpture prototypes for the LeapFrog! and Go Fish! Erie public art projects. A graduate in industrial design from the Columbus College of Art and Design, Seitzinger was a toy designer for Marx Toy Company. Seitzinger received first place in the Boston Mills show for a collaborative "flying machine" he created with John Vahanian that was also featured in the Paris Air Show. He has exhibited widely, including a recent solo show in Bethesda, Maryland, in Northwestern PA Artists Association shows and many others nationally and abroad.
You can view video of Giant Quacker here: http://youtu.be/g-_ae-ehYY4.